Guide To Reopening
The Fresno Convention & Entertainment Center is excited to be opening again for concerts, performances and events!
As part of the ASM family we have been able to develop a comprehensive guide to plan and implement safe reopening practices for all our venues. In collaboration with the City of Fresno and local health agencies we have put in place measures to maximize the safety of our employees, guests and performers while at on the grounds of the Fresno Convention & Entertainment Center.
For the full plan you can access the latest version of the Venue Shield guide here.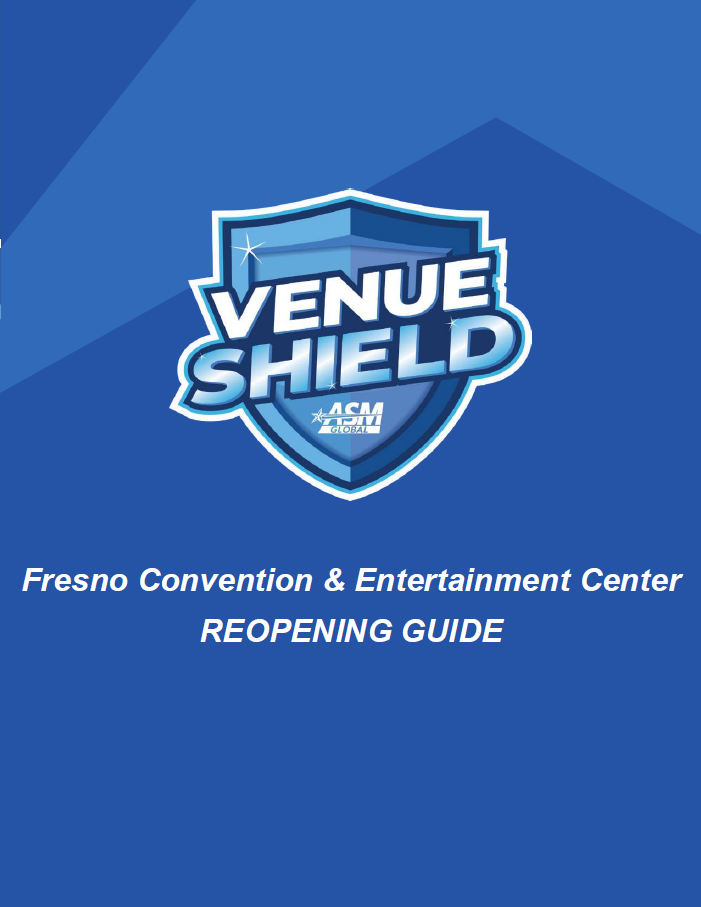 ---
COVID-19 UPDATE
Notice :  Updated January 13, 2022
Lowered threshold for Indoor Mega Event to 500 attendees and Outdoor Mega Events to 5,000.
The health, safety and security of our Guests, Performers, Athletes, Clients, and Associates remains our highest priority. For Indoor Events of 500 or more, the Requirements are as follows:
Verification of fully vaccinated status OR proof of a negative COVID-19 test (Children 2 years and under are exempt from having to provide a test).
• If providing a negative test result, it Must be either:
A PCR test taken within 2 days of the event; or
An antigen test, either from a laboratory or self administered, taken within 1 day of the event.
Examples of acceptable are as follows: - COVID-19 Vaccination Record Card (issued by the CDC or WHO) - A photo of your vaccination card stored on a phone or electronic device - A printed document from the test provider or laboratory, if testing prior to event date. - An electronic test result displayed on a phone from the test provider or laboratory. California mandate requires ALL our Guests in the venue to wear a suitable face covering consistent with CDC guidance (mask exemptions are outlined below).
Mega Events may have either assigned or unassigned seating, and may be either general admission or gated, ticketed events.
Indoor venue and event operators may not use self-attestation as a mode of verification.
All businesses and venue operators must check the identification of all attendees age 18 and over to validate their vaccination record or proof of negative test.
Acceptable identification is any document that includes the name of the person and photograph.
Exemptions to masks requirements
The following individuals are exempt from wearing masks at all times:
Persons (2) two years old and younger. Very young children must not wear a mask because of the risk of suffocation.
Persons with a medical condition, mental health condition, or disability that prevents wearing a mask. This includes persons with a medical condition for whom wearing a mask could obstruct breathing or who are unconscious, incapacitated, or otherwise unable to remove a mask without assistance.
Persons who are hearing impaired, or communicating with a person who is hearing impaired, where the ability to see the mouth is essential for communication.
Persons for whom wearing a mask would create a risk to the person related to their work, as determined by local, state, or federal regulators or workplace safety guidelines.
Patrons are also encouraged to utilize the hand sanitizer stations positioned throughout our venues for an added layer of protection.
FCEC Box Office HOURS: (Mon, Wed-Fri: 10AM–2PM) for walk-up or phone to help clarify current entry requirements or to answer any ticketing questions.
Patrons who have symptoms consistent with COVID-19, have been in contact with someone with COVID-19, or suspect they might have COVID-19 should not attend any events.
*Please continue to check the below link for the most current updates in place for CA Beyond the Blueprint for Industry and Business Sectors (Including Mega Events) (ca.gov) website and all of our Social Media platforms for Health protocol updates.
What else can we help you with?