About
The Fresno Convention & Entertainment Center is home to some of the most sought after events in Fresno each year. With a rich history of hosting some of the most iconic events Fresno has seen, the venues that are available for your event at the Fresno Convention & Entertainment Center will meet your needs. From the multipurpose Selland Arena to the state of the art Saroyan Theatre and the practical exhibit spaces available in the Convention Center and Valdez Hall, you will be able to exceed the expectations of your guests.
Along with the City of Fresno, we welcome the cultural and economic opportunities to provide great events to the residents of Fresno, Clovis and the surrounding communities.
Our staff are here ready to assist in planning the event you envision, large or small, and as creative as you can imagine. Located in the heart of downtown Fresno with access to parking, restaurants, accommodations and other services you and your guests will truly have a memorable experience in all that Fresno has to offer.
Bag Policy
Prohibited bags include:
• Backpacks of any kind.
• Bags larger than 12″ x 6″ x 12″.
Patrons may bring in the following bags:
• Bags smaller than 12″ x 6″ x 12″.
• Diaper bags after proper inspection.
An exception will be made by management for medically necessary items after proper inspection. For any questions, please call (559) 621-8760.
All bags are subject to search.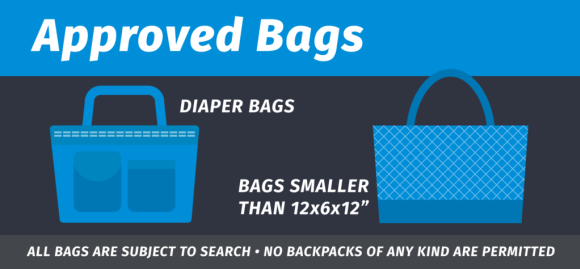 Facility Regulations
Please note the following regulations for all of the Fresno Convention & Entertainment Center venues:
Management reserves the right to refuse admittance to ticket holders who refuse to allow inspection of their persons and purse, bag or package carried with them entering the venues.  Backpacks are prohibited.  Patrons may be subject to search at any time.
Camera, video, and audio recording devices may not be permitted during certain events.
Smoking of any kind is prohibited within the venues.
Children two (2) years and older must have a ticket for admission unless otherwise noted.
Outside food, drinks, cans, bottles or containers of any kind may not be brought into the venues.
Fireworks and weapons of any kind (including but not limited to: firearms, knives, sticks, chains, spiked jewelry, spiked clothing, spiked belts, spike boots and spurs) are not permitted in the venues.
Shirts and shoes must be worn in the facilities at all times.
Unauthorized marketing/soliciting/vending is prohibited.
Laser pointers, air horns or other noisemakers may not be brought into the venues.
Ticket stubs must be retained for the duration of the event.
Unlawful purchase, distribution, or possession of alcohol will result in immediate removal from the venues.
Prohibited Items
IN ORDER TO PROVIDE A SAFE AND SECURE ENVIRONMENT FOR ALL, THE FOLLOWING ITEMS ARE NOT PERMITTED IN ANY OF THE FRESNO CONVENTION & ENTERTAINMENT CENTER VENUES, BUT NOT LIMITED TO:
Hoverboards
Bottles, cans coolers or similar containers
Food, drinks or illegal substances
Any weapon, including chains and studded bracelets
Video equipment, professional camera, tripods or recording devices
Laser pointers, aerosol cans, noise-makers, fireworks
Backpacks of any kind, oversized bags larger than 12″ x 6″ x 12″, unwrapped gifts, boxes, umbrellas
Helium balloons
Smoking, including e-cigarettes or vapors
Lighters of any kind
Selfie sticks
Pets or non-service animals
Any other items determined to be unacceptable or dangerous by management
Explosives
Guns
Stun guns
Handcuffs
Brass knuckles
Sticks
Clubs
Batons
Martial arts instruments
Pepper spray
Tear gas
Knives of any kind
The Fresno Convention & Entertainment Center does not provide weapon lockers.
Those with a Concealed Weapons Permit are prohibited from bringing weapons into the venues; NO EXCEPTIONS.  The Fresno Police Department are the only officials allowed to enter with weapons.
Guests found in possession of the above-mentioned items will be asked to remove the item from the venues or dispose of it.  Guests who refuse to comply will be ejected from the venues and may be subject to arrest.
Entry Inspections
All guests entering the venues during an event are subject to a search of their person and their property, this includes a visual inspection and a bag inspection conducted by Fresno Convention & Entertainment Center security personnel. The purpose of the inspection is to detect prohibited items such as audio/video equipment, professional photography equipment, glass bottles, metal cans, food and beverage, explosives, stun guns, handcuffs, brass knuckles, sticks, clubs, batons, martial arts instruments, pepper spray, tear gas, knives with blades over 2" in length. Bags larger than 12″ x 6″ x 12″ will be prohibited from entry into the venue. Backpacks of any kind are prohibited. All bags are subject to search.
See the "Prohibited Items" tab for a complete list of unauthorized items.
Guest Conduct
All guests must maintain reasonable and appropriate behavior at all times. Guests using offensive language or engaging in disorderly conduct may be ejected from the venues and may be subject to arrest. Ejected guests will not receive a refund for their tickets or be compensated in any way for their loss.
Disturbances include, but are not limited to, the following:
Standing on chairs
Drunk and disorderly conduct
Fighting or challenging others to fight
"Mooning" or exposing private body parts
Interference with or delay of the game/event
Violation of Fresno Convention & Entertainment Center's event policies
Violation of the local, state, and federal laws and statues
Igniting and display of flames, i.e. lighters/matches, in the facility bowl
Attempting to enter the field of play, court, or stage without permission
Throw, discharge, or launch any liquid substance or objects other than paper confetti
Willfully and maliciously disturbing another guest/employee with loud and unreasonable noise
Using profanity and/or offensive words which are likely to provoke a violent reaction from others
Taunting or using offensive language against the performers
Ticketing Information
The Selland Arena Main Box Office will now be open from:
Monday, Wednesday and Friday: 12pm to 5pm
Selland Arena
700 M Street
Fresno, CA 93721
On show days, the box office will be open from 3pm until 30 minutes after the start of the show.
–
Tickets can also be purchased online through Ticketmaster at www.ticketmaster.com, via their mobile app or Ticketmaster by phone at 1-800-745-3000.
What else can we help you with?